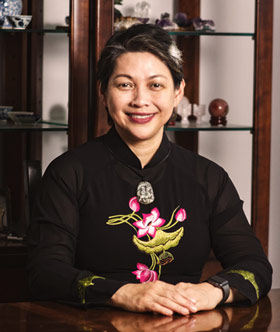 Dr Sam Hoong
Perth Psychologist
Dr Sam (Waisam) Hoong is a fully registered Clinical Psychologist based in Perth, Western Australia. Dr Sam completed her BA (Hons) and B.Ed (Hons) and studied psychology at the University of Western Australia, earning her PhD investigating the effects of assessment tools used in the diagnosis of psychopathic tendencies. She also completed her Masters degree in Clinical Psychology examining the effect of Mindfulness-Based Cognitive Therapy and Emotion Freedom Therapy on individuals with cancer.
Dr Sam specialises in the management and treatment of a range of mental health issues, including mood disorders, severe anxiety disorders (Generalised Anxiety Disorder, Obsessive Compulsive Disorder), depression, post traumatic stress disorder, complex trauma, relationship difficulties and chronic pain. Dr Sam has worked extensively with individuals who have been sexually, physically and emotionally abused from different cultural background and age group.
As a Chinese-born Singaporean, in addition to English, Dr Sam speaks Cantonese, Mandarin and Hokkien, and can counsel in these languages as required. She developed a passionate interest in traditional Chinese healing practices, and studied Chinese medicine in both Singapore and Shanghai, becoming a licensed Acupuncturist and Chinese Physician in 1993. Influenced by her background in Asian healing practices, Dr Sam strongly advocates the use of mindful awareness and meditation. She utilises Mindfulness-based Cognitive Therapy (MBCT) and Clinical Hypnosis with many of her clients. She also utilises Psychodynamic approaches and Eye Movement Desensitization Reprocessing (EMDR) for dealing with traumatic life experiences and helping them make sense of their stories.
As a clinical psychologist, Dr Sam is recognised as a provider of clinical psychological services by Medicare Australia and private health funds and are eligible for higher clinical psychology rebates.
Memberships
Member of Australian Psychological Society (APS)
Member of Institute of Clinical Psychologist
Fellow APS College of Clinical Psychologist
Member of International Society of Hypnosis (ISH)
Member of Australian Institute of Clinical Hypnosis and Psychotherapy (AICHP)
Registrations
Psychology Board of Australia (AHPRA) – Registered Psychologist
Endorsement: Area of Practice – Clinical Psychologist
Contact Details
Phone: 0433 220 299
Email: drsamhoong@gmail.com
Dr Sam works from Shenton Park Psychology Services
Shenton Park Psychology Services
5/316 Onslow Road
Shenton Park, WA 6008